Participants at Wednesday's rally chanted slogans condemning the slurs and anti-Islamic remarks and called on people to join a campaign to boycott French products.
They also pointed out that such Islamophobic movements could never undermine the great character of the Holy Prophet (PBUH) and of Islam.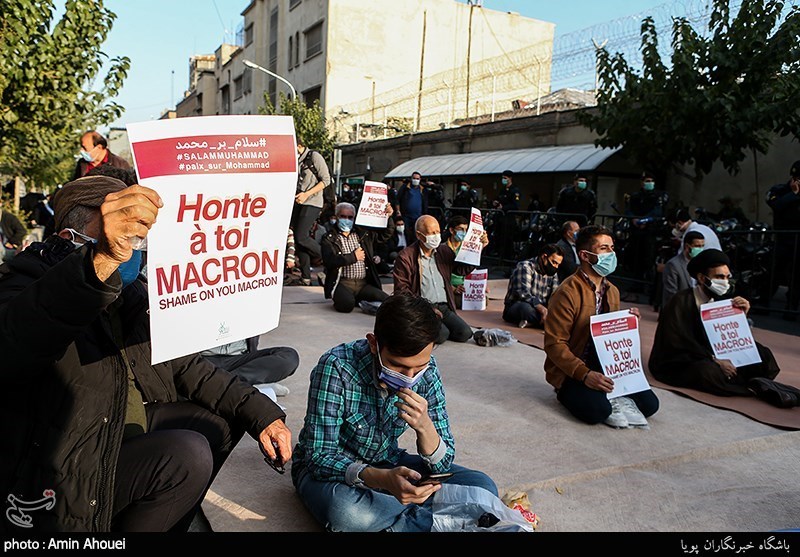 Earlier Wednesday, Iranian President Hassan Rouhani criticized France's disrespect for the Prophet of Islam as an immoral action that encourages violence and has provoked the feelings of billions of Muslims and non-Muslims.
He also called on those who "made the mistake" to make amends and begin to respect justice, morality and all divine religions.
If the West, Europe and France truly seek the establishment of peace and security in human society, they must stop interfering in the internal affairs of Muslims, Rouhani added.
A clear example of such Western interference is evident in Yemen, where poor people are dying in attacks from Western bombs and fighter jets that the West has provided to the aggressors, he said.
Earlier this month, French President Emmanuel Macron pledged to fight "Islamist separatism," which he said threatened to take control of some Muslim communities in France.
He also described Islam as a religion "in crisis" in the world and said the government would introduce a bill in December to strengthen a 1905 law that officially separated church and state in France.
His comments, in addition to his support for the satirical media publishing caricatures of the Prophet Muhammad (PBUH), drew wide condemnation from Muslims around the world.