One of the smallest capitals in the world
Culture & Identity
|
City
One of the smallest capitals in the world
(Image credit: seychelles view/Alamy Stock Photo)
Built on land reclaimed from the sea, Seychelles' small capital can't get any bigger, but with a vibrant culture and fascinating history, it doesn't need to.
O
One minute I was above a seemingly endless ocean en route to the Seychelles. The next dark granite cliffs filled the plane window, swirling in and out of the clouds with all the dark mystery of ships lost at sea. water or crashing into a mountain, there seemed to be so little space between the two.
The Seychelles are an archipelago of 115 islands, a sublime encounter between sea and land under an impossible blue sky. Everything here, from the towering volcanic spine of the largest island of Mahé to the 1,800 kilometers of ocean that separate Mahé from mainland Africa, seems to be happening on a grand scale.
Everything, except Victoria, the small capital of the Seychelles.
There are other capitals in the world with smaller populations: San Marino or Vatican City, for example; or a handful of small towns in the Pacific Islands. Even so, Victoria's population of around 30,000 is modest by the standards of most seats of national power.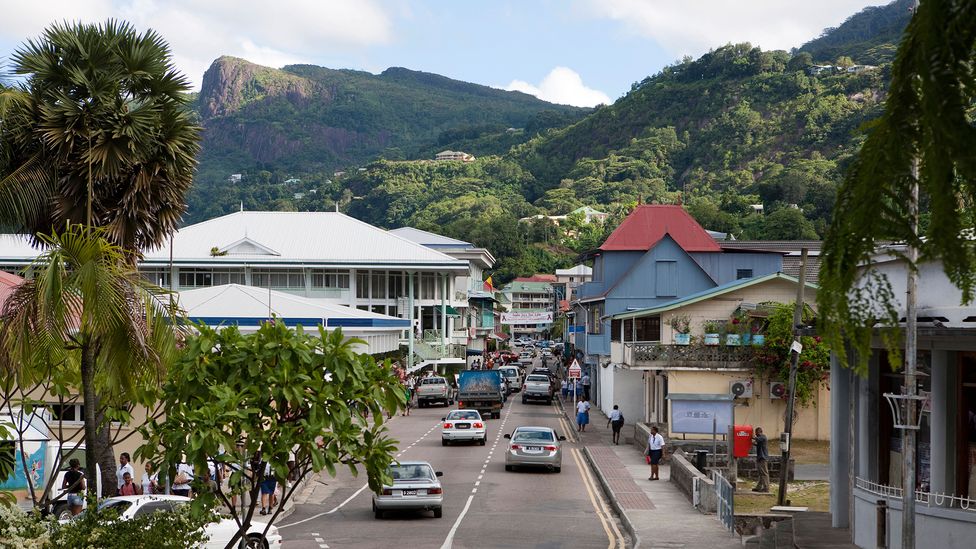 With a population of around 30,000, Victoria is relatively small for a capital city (Credit: imageBROKER/Alamy Stock Photo)
While there seems to be little room along Mahé's narrow coastal strip for an international airport, there is also little room for a capital city. Mahé measures only 20 km²; it would take barely 10 minutes to circumnavigate the perimeter of the tightly knit streets in the center. The houses climb the surrounding hills until the terrain becomes too steep.
That Victoria can even grow to this size owes much to past geographic engineering.
"Half of Victoria is reclaimed land," said George Camille, one of Seychelles' best-known artists, who was born in Victoria and spent much of his life here. "The sea was where the taxi stand is now."
For such a small town, Victoria does a good job of telling the story of modern Seychelles through its buildings and tightly focused clamor. It is an antidote to the popular Seychelles image of beaches and palm trees and a life away from the world and its noise.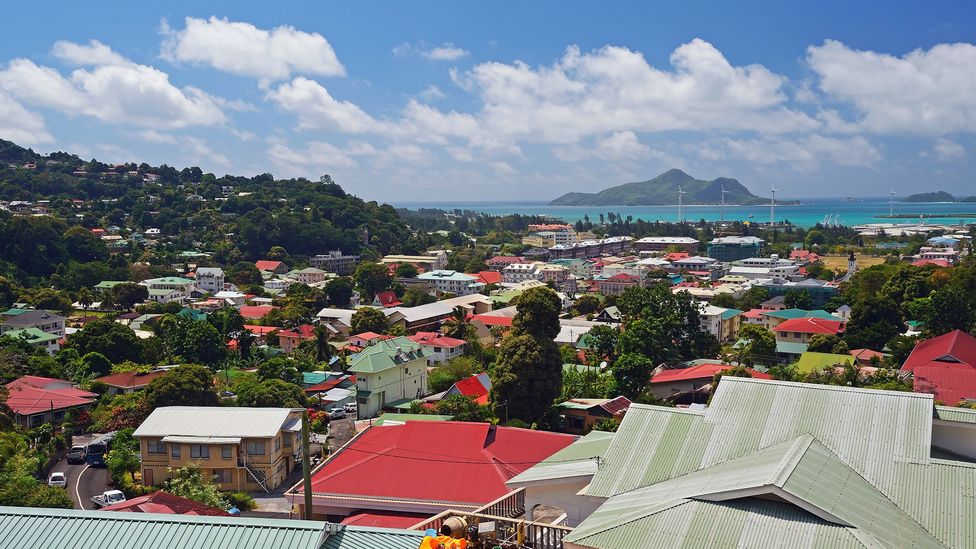 Bustling Victoria shows visitors a different side of the Seychelles (imageBROKER/Alamy Stock Photo)
Victoria has surprisingly deep roots in her narrow patch of soil. The French founded the city in 1778, at a time when the American War of Independence was raging, the penal colony of Australia was still only an idea and much of Africa remained untouched by Europeans. The new settlement – which was obviously a modest place of wooden and granite houses, an army barracks and enclosures for keeping tortoises – was named, a little more grandiosely, The King's Establishment (" establishment of the king").
Little was done to develop the new city, either by the French who first built it or by the British who took charge of it in 1811. It was a port, a port, a convenient bus station en route to elsewhere. It was so small and unimportant that it took the British 30 years to change the name to Victoria; they did so in 1841 to commemorate the Queen's royal marriage to Prince Albert.
Its history was, for the most part, a minor matter for much of the 19th century. After heavy rains, an avalanche of mud and granite fell on the city on October 12, 1862; many were killed. In 1890, the Swiss-owned Hotel Equateur opened, a precursor to the deluge of tourist activity that would one day define the Seychelles.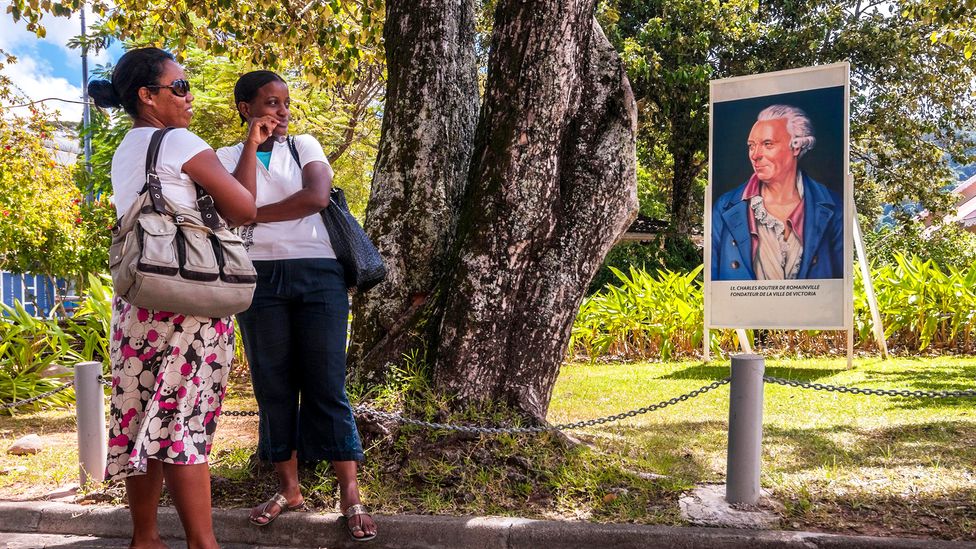 Women stop to chat in front of an image of Lieutenant Charles Routier de Romainville, founder of the city of Victoria (Source: Hemis/Alamy Stock Photo)
Perhaps the oldest existing building in Victoria is now, appropriately, the National Museum of History. With its attractive mix of written information panels and wall-to-ceiling displays, it tells the story of early colonial times, the liberation of slaves and the resulting history of Creole culture. Many of the city's established histories tell of Victoria's (and Seychelles') colonial history, which is understandable as it was the French and the British who left behind the architectural landmarks. But on February 1, 1835, 6,521 slaves were freed in the Seychelles. The total population at the time was only 7,500; almost 90% of them were freed slaves and they would become the foundation upon which a Creole nation would be established.
Originally built in 1885, once the building of the Supreme Court of Seychelles, the museum was restored in 2018 and remains a light and airy structure of wooden shutters and high ceilings surrounded by a garden filled with palm trees. It occupies the corner of Avenue de l'Indépendance and Rue Francis Rachel.
At the heart of this intersection and visible from the museum grounds is one of Victoria's most curious landmarks: a miniature replica of the clock tower known as Little Ben which stands on Vauxhall Bridge Road in London. It was brought to Victoria in 1903 and serves as a small enough signpost for a city that could never grow.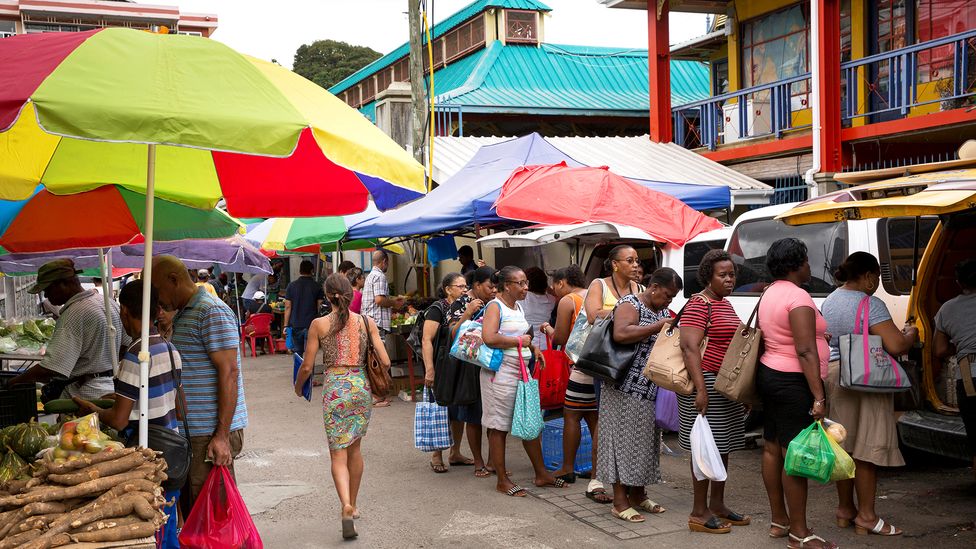 Shoppers queue at Sir Selwyn Selwyn-Clarke Market (Credit: Economic Images/Alamy Stock Photo)
Inside the tight streets and alleys that make up the very center of Victoria, the "city" is a tight tangle of cars and people, honks and shiny fabrics. Around the Sir Selwyn Selwyn-Clarke indoor market, the town becomes a mix of screaming fishmongers and fresh produce ranging from coconuts and plantains to vanilla beans and chillies. Along Albert Street, old-fashioned wooden commercial warehouses in faded pastel hues share the street frontage with a glass-walled casino. Nearby there is the extravagant balconyed facade of the Domus (a residence for the church hierarchy, built in 1934). On Quincy Street, the Sri Navasakthi Vinyagar Hindu temple stands amid modern buildings.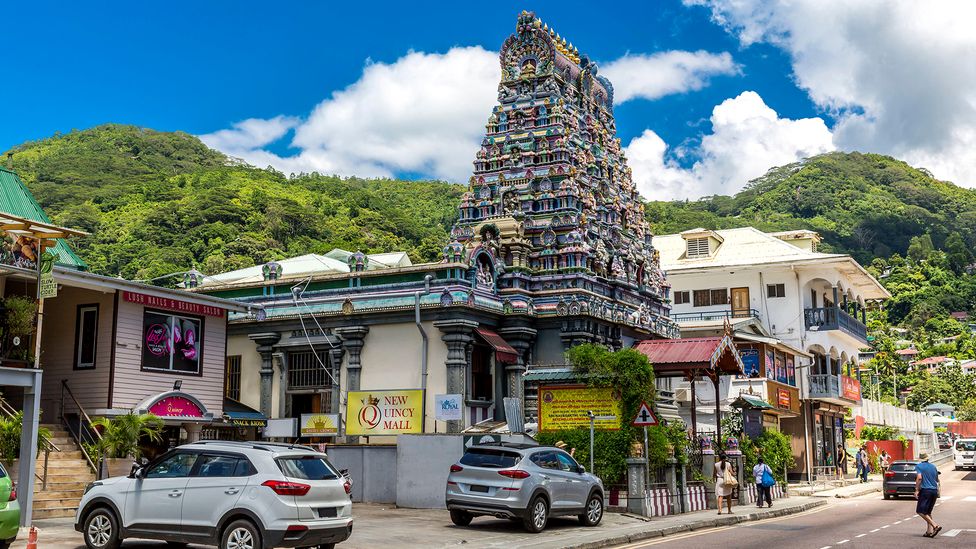 Victoria's Sri Navasakthi Vinyagar Hindu Temple rises from the town. (Mauritius Images GmbH/Alamy Stock Photo)
"People think Seychelles is all about beaches," said local shopkeeper, amateur historian and lifelong Victorian Connie Patel. "And, of course, beaches are important. But everything from the Seychelles is here. There aren't many roads here on Mahé; almost all go through Victoria. If you want to see where ordinary Seychellois come business away from tourism, Victoria is where it's at. It's an essential part of Seychelles' history.
Resident Geetika Patel agreed: "Victoria is a window into the real Seychelles. It can be loud and messy and we all complain about the traffic. But this is modern Seychelles. Look around you. It's a melting pot faces and architecture that tells will tell you a lot about who we are. Listen, and you'll hear everyone talking in Creole. You can't say you understand the Seychelles unless you've been here.
Up the hill above the town and off Avenue de la Révolution, Restaurant Marie Antoinette occupies a former home where, in the 1870s, Welsh-American journalist and explorer Henry Morton Stanley stayed for a month on his return from Africa and his famous meeting with Doctor David Livingstone. Stanley had been sent by an American newspaper to find Livingstone, who had lost contact with the outside world years earlier; it was when they first met on this trip that Stanley uttered the now famous words, "Dr. Livingstone, I presume?". Upon arriving in Seychelles on his way home, Stanley missed a French mail ship by a day and was stranded in Seychelles for a month awaiting his return to Europe. Built entirely of wood, sporting towers and turrets, the building is another landmark towards a little-known past.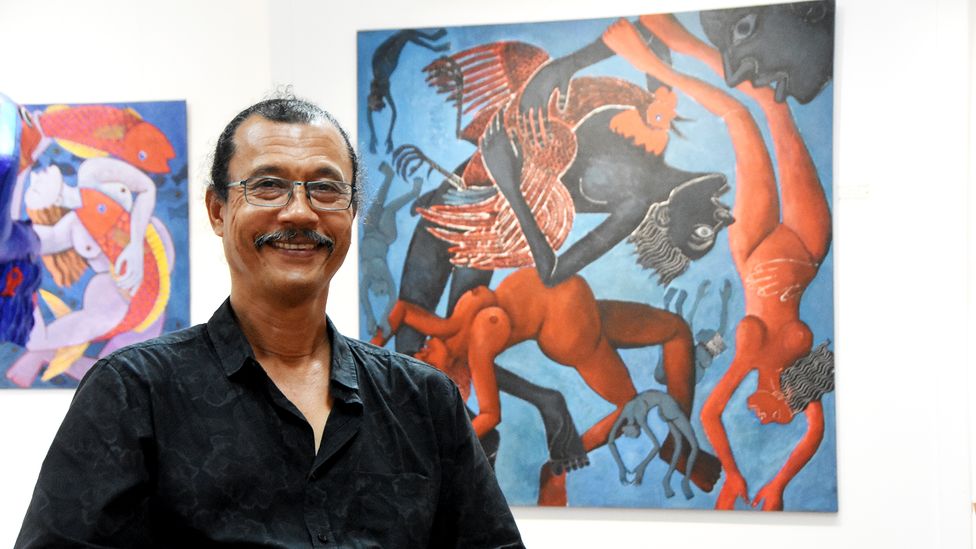 George Camille, one of Victoria's best-known artists, wants to make Victoria a capital of Creole culture. (Anthony Ham)
Just down the hill, artist Camille, who dreams of making Victoria a regional capital of Creole culture, has restored a traditional house built of casuarina, mahogany and other hardwoods, turning it into an exhibition space and an art gallery known as Kaz Zanana for its confronting works of art. "This is what houses in Victoria once looked like," Camille said. "It's a relic of a dying world."
It was dusk when I left Kaz Zanana and walked around downtown. Lost in thought, I found myself outside the market. The heat of the day was gone, and so were the market traders. There was no traffic. The streets were silent. By then, Victoria may have felt like the village it once was and never really grew.
—
Join over three million BBC Travel fans by liking us on Facebookor follow us on Twitter and instagram.
If you liked this story, sign up for the weekly bbc.com features newsletter called "The Essential List". A handpicked selection of stories from BBC Future, Culture, Worklife and Travel, delivered to your inbox every Friday.